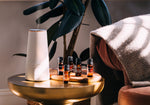 Aromatherapy Associates

Aromatherapy Associates is extremely proud to be able to trace a direct line back to the very beginnings of modern aromatherapy.

Their studies began in the 1970s when their founders Geraldine Howard and Sue Beechey both trained under Micheline Arcier, student of aromatherapy founders Marguerite Maury, an Austrian biochemist and skincare pioneer, and Jean Valnet M.D., an expert in the science of essential oils. This association with aromatherapy's earliest practitioners has provided an ongoing link to the traditional principles of aromatherapy and the benefits essential oils bring when applied in the right way.
Since those early days, Geraldine and Sue have maintained a deep passion for teaching, practising and blending oils. In 1985, Aromatherapy Associates was established to share the benefits of aromatherapy through a range of therapeutic-grade products and treatments.